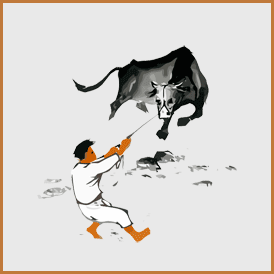 People often ask me about my logo – the man struggling with a bull. It comes from the Ten Bulls or Ten Ox Herding Pictures, a work from within the Zen Buddhist tradition. They consist of a series of short poems and accompanying pictures used to illustrate the stages towards enlightenment, The bull or ox is one of the earliest similes for meditation practice. I thought they made a good metaphor for the quests that people set out on in psychotherapy: the struggle with a specific problem, or with some vague sense of longing, something wrong, something missing, something more wanted from life. Here is my interpretation of those 10 steps as pictured by both the Chinese and the Japanese Zen traditions, dating from the 12th Century, for how they can apply to psychotherapy.
The search for the bull: Confused and lost
Discovery of the footprints: Beginning to get some ideas of what it is you are looking for
Perceiving the bull: Developing a sense of what needs to be done to achieve what you want
Catching the bull: "I seize him with a terrific struggle" – a quote from the poem itself, for the picture that I chose to use for my logo. This is the beginning of coming to grips with the problem. This is the point that many people are at when they come for psychotherapy.
Taming the bull: Confronting the issues deeply and working through the ramifications.
Riding the bull home: One has learned how to deal with things, including the "problem", when safely in a sheltered context.
The bull transcended: Broadening the context within which one can function optimally.
Both bull and self transcended: Serene and comfortable within the challenges, hustle and bustle, of every day life. Struggles no longer are an issue – not because life no longer brings them on, but because they can be enjoyed for what they are.
Reaching the source: Integrated understanding and action.
Return to society: Reaching out to help others while proceeding on with one's own path.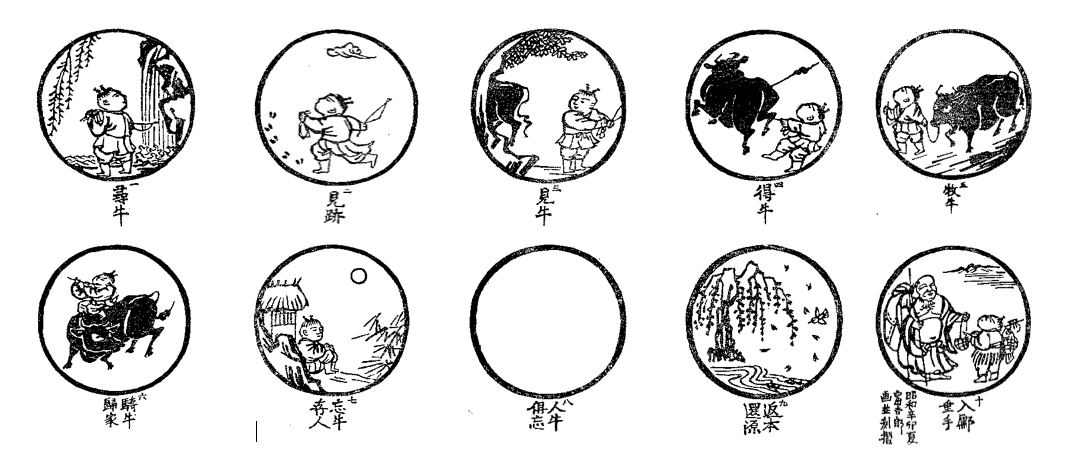 In typical Zen fashion, at the end of this series of pictures, both the bull and the rider disappear. While the Ox Heading Pictures do not really fit frame for frame with psychotherapy, they are an interesting mix. I do think that #4 fits well with my experience of the struggle people are having when they first come to me.
Note: Rumour has it that Leonard Cohen's album of some years ago, Ten New Songs, is his interpretation of the ten Ox Herding Pictures.